BA Nerf Rocket Air Cannon Plans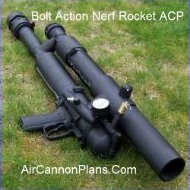 WARNING: No Liability Is Assumed By The Developers Of This Website and All Literature Is Provided Second Hand, Use It At Your Own Risk!

Bolt Action Nerf Rocket Air Cannon
BA Bolt Action Nerf Rocket Air Cannon Plans
How to build - Bolt Action Nerf Rocket Air Cannon
The Bolt Action Nerf Rocket Air Cannon launcher is the ultimate multi shot air cannon for pummeling your opponents!!!

Purchase these build it yourself Bolt Action Nerf Rocket Air Cannon Plans with fully detailed fabrication and assembly instruction for, Just $4.95
Detailed Fabrication Instructions Included
Get your nerf rocket fired with the BA Air Cannon!
This Bolt Action Air Cannon can fire repeat nerf rocket shots at your target without wasting time on reloads.
With this bolt action nerf rocket launcher you can fire and reload while dialing in accuracy with each shot!
Plans to build the BA Nerf Rocket Air Cannon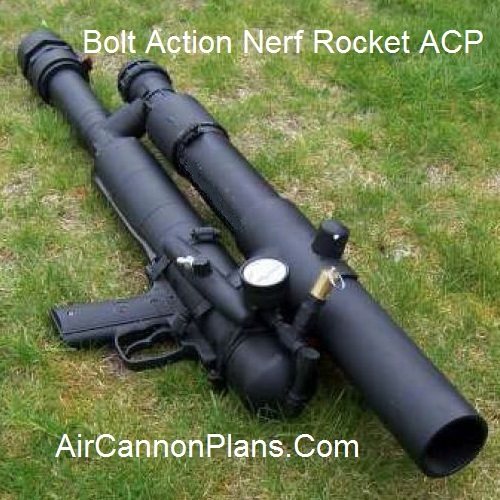 Okay, are you ready to build the best nerf launcher for dominating those neighborhood nerf wars?
We've got the plans to help you make a cool, more
sophisticated nerf launcher that will turn heads and get your opponents running for cover!
This guide was designed as a set of air cannon plans you can use to create a sliding bolt action barrel air cannon that will speed up reload time and allow you to keep pummeling the competition over and over again.
Bolt Action Nerf Rocket Launcher General Overview
Special Features and Advantages
The BA Nerf Rocket Air Cannon is powered by an electronic valve that allows the air to escape much faster for more force.
The bolt action sliding barrel design allows you to reload faster, and easier than standard breach loader designs.
Got a target? it's time to pummel it! Fire repeat shots with quick bolt re-fire action that can't be beat.
This nerf rocket launcher features a barrel assembly that includes a hyper fast loading combustion chamber for quick action. Even with this highly advanced design, you can make fat action shots repeatedly.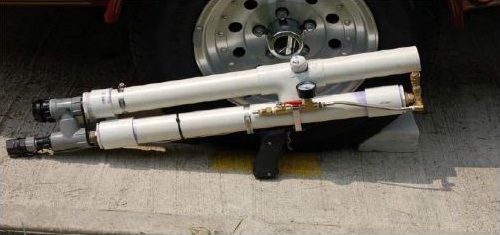 Build It Yourself Bolt Action Nerf Rocket Launcher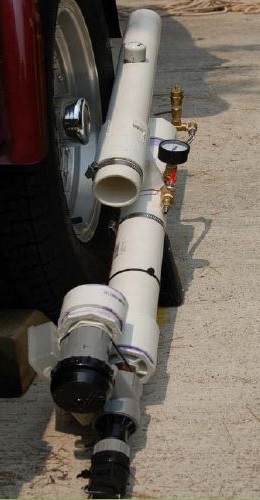 With simple hand tools like as a jig saw, hack saw, file and sand paper you can fabricate and assemble this nerf rocket launcher in an afternoon. These simple to follow plans will also keep your cost down on fabrication as well.
Now you too can build a Bolt Action Nerf Rocket Air Cannon with these plans and be using the fastest shooting, coolest looking nerf rocket launcher!
You can fire off several shots with authority and not be wasting any time in between for slow reloads.
With the bolt action barrel you can insert nerf rockets and many other different types of projectiles to pummel your targets with repetitive action.
Never let anyone get a away without a return shot on them again!!!
This air cannon design is fun and action packed with quick action...
The Bolt Action Nerf Rocket Air Cannon!

Get your set of Bolt action Nerf Rocket Air Cannon Plans today and dominate the competition with quick repeat bolt action shots! Just $4.95