Backpack Water Gun Air Cannon Plans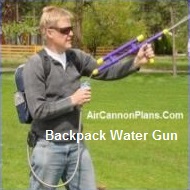 WARNING: No Liability Is Assumed By The Developers Of This Website and All Literature Is Provided Second Hand, Use It At Your Own Risk!

Fire Up The Water Pressure!
Air and Water Pressure Backpack Water Gun
How to build - Backpack Water Gun
These plans include straight forward instructions for building this water gun, and they can be easily adjusted to customize it for building multiple size guns with larger or smaller capacities. Want to dominate the competition? Pump up the size for larger water volume based on your preferences.
With a generous water / air capacity. This water gun shoots an amazing 45 plus feet to saturate those opponents lurking in the distance.
It is designed with a built in pressure gauge. However, there is no need to pump this water gun up with air pressure! It is designed to be pressurized with municipal (house) water pressure which generally comes in at 30-35 lbs of pressure. Of course you can always add more drive by adding additional air pressure if you desire.

Purchase these build it yourself Backpack Water Gun Air Cannon Plans with fully detailed fabrication and assembly instruction for, Just $4.95
Detailed Fabrication Instructions Included
This can be an easy to build family project. This water gun is quick an easy to use since the weight of the water is carried on your back not in your hands.
It allows for hyper fast filling so while others are filling their water guns you are shooting yours. It has a controllable, variable flow rate right from the oversize water lever.
Plans to build the Backpack Water Gun Air Cannon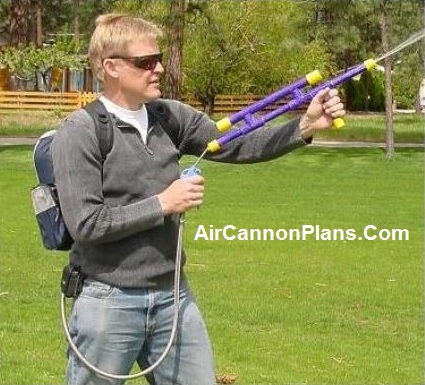 This is a very powerful backpack water gun. As with other air cannon plans, creations, this one comes with some extra features not found on other backpack water guns.
This design includes a reinforced 4 foot braided delivery hose for a number of good reasons. It has incredible strength and longevity, and includes a non-abrasive (nylon sheath) for a non irritating comfort against your skin.
This water gun design offers options that overcome limitations found in other water guns. Including:
Constant fire, shoot all the time, No need for pumping.
The 1/4" water stream allows you to totally soak your opponents in just a few 2 seconds.
Great volume for extended runtime (squirt time). Fire for two minutes with a steady 1/4" stream!!! Based on being filled with the garden hose and no additional added air pressure.
Add additional air pressure to boost performance. This will allow you to deliver a very drenching blast.
The maximum operating pressure of this water cannon is 80 psi.
Use this Backpack Water Gun for other purposes
Watering plants
Scaring off rodents
Quick cool off on a hot summer night
Rinsing off things like windows and siding
Washing camping dishes, And so much more.
Pick up a set of plans today and you too can build the Backpack Water Gun with step by step how to instructions.

These plans are created with low cost and easy fabrication in mind.
Each step is photographed, every action fully described.
This Backpack Water Gun is very customizable to fit anyone's needs.
The instructions show a backpack water gun with 4" pipe and fittings. However, You can easily use 2" or 3" pipe and fittings and vary the size of the whole unit to whatever fits your needs best.
All you need to do to change the size of this gun assembly is
Select 4 90º elbows, 2", 3" or 4" in size and glue connecting pipes of equal size on in pairs.
Don't forget to install the air valve. Air valve is optional
The air valve allows added pressure to insure all the water shoots out so that you are not carrying dead weight.
Backpack Water Gun Air Cannon Plans!

Get your set of Backpack Water Gun Air Cannon Plans today and get ready to soak the opposition with accurate water blasting! Just $4.95