3" Double Barrel Air Cannon Plans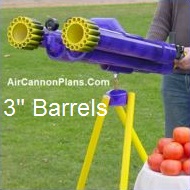 WARNING: No Liability Is Assumed By The Developers Of This Website and All Literature Is Provided Second Hand, Use It At Your Own Risk!

Roll Out The Artillery!
DB Air Cannon Plans for 3" Projectiles
How to build - double barrel air cannon
With this Double Barrel Weaponry Air Cannon you get the full force for launching tomatoes, water balloons and other 3" projectiles into the air at the opposition!!! Or use it to propel t-shirts into a crowd.

Purchase these build it yourself DB - Double Barrel Air Cannon Plans with fully detailed fabrication and assembly instruction for, Just $4.95
Detailed Fabrication Instructions Included
You can load an array of 3" projectiles to slam the competition with two full 3" barrels!
This DB Air Cannon is the dominant weapon of choice for tomatoes, water balloons, t-shirts and other 3" projectiles for larger loads.
With this maximum load model you can make tomato paste rain down on your opponents in bulk for total saturation!
Plans to build the DB Air Cannon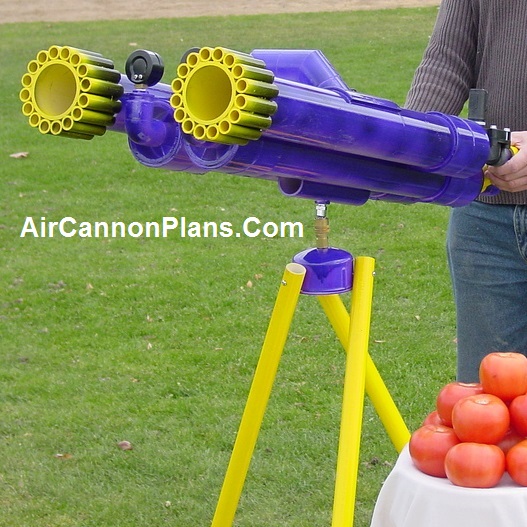 This powerful cannon is the ultimate in domination with the ability to fire 20 plus large tomatoes at once over 400 feet! Per Barrel!!!

This Tomato Cannon has two large 3" chambers to fill with the projectile and volume of your choice.
With the twin barrels your magnum double barrel loads can be fine tuned as each one has its own pressure gauge for variable air pressure to enhance range control for each individual shot.
Dial in each shot as you adjust how much air to charge each firing chamber with. The 100mm (3") diameter barrels fit big juicy tomatoes or small buckshot size ones.
Choose your projectiles and load up for complete domination. The long barrel lengths allow you to choose how much ammo your going to load, and the dual pressure gauges allow you to determine how far you want to shoot each barrel load.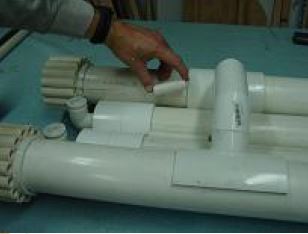 An optional feature included in the plans calls for dual laser illuminators (one per barrel) that allow you to place a dot on the target of your choice and fire for more accuracy.
The Gatling gun style forward circular muzzle tubes contain the optional targeting lasers to focus in on the competition.
The Double Barrel Air Cannon rests on a quick release tripod mount for better control. It can be set up on most surfaces and is highly adaptable with its quick release mounting system for easy detachment allowing you to go into a handheld configuration when needed.
Choosing your ammo:
Many fruit and vegetable stands will give you their over ripe tomatoes for free but don't stop there. Plums, grapes, water balloons, or even rolled t-shirts for advertizing crowd giveaways if that's your desire..
Virtually anything that will fit down the barrel can be used.

The DB Double Barrel Air Cannon is great fun and it can make incredible shots when firing full barrel loads over 400 feet (with each barrel) to rain down on your opponents with heavy duty artillery.
This Mega Magnum DB Air Cannon wouldn't be complete without a few words on ammo choices. This monster cannon will also shoot:
Stuffed animals, bananas, oranges, tennis balls, toy balls, shoes, confetti, water balloons, laundry, cucumbers, water, snow snakes, pumpkin chunks, potatoes, popped popcorn, candy, flour, paintballs, paper towels, puppets, and most things you can fit in the barrels.
Now you too can build the Double Barrel Magnum Air Cannon with these plans to guide you step by step through the fabrication process.
DB Double Barrel Launcher Air cannon Plans!

Get your set of Double Barrel Air Cannon Plans today and get ready to saturate the opposition with twin loads of fun! Just $4.95