JM Magnum Air Cannon Plans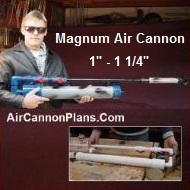 WARNING: No Liability Is Assumed By The Developers Of This Website and All Literature Is Provided Second Hand, Use It At Your Own Risk!
For firing up to 1 1/4" Diameter Projectiles
Jumbo Magnum Marshmallow Air Cannon Plans
How to build this air powered marshmallow cannon
The JM Magnum Air Cannon is the campground nemesis when it comes time to pummel your neighbors with marshmallows!!!

Purchase these build it yourself Magnum JM Air Cannon Plans with fully detailed fabrication & assembly instruction for, Just $4.95
Detailed Fabrication Instructions Included
Campground marshmallows are not just for S'mores anymore! Deliver a marshmallow pummeling.
Have you ever seen a marshmallow flattened like a pancake? The JM Magnum Air Cannon can fire marshmallows into the air at high speed!
FAST AND POWERFUL best describes this cannon
Plans to build the JM Magnum Air Cannon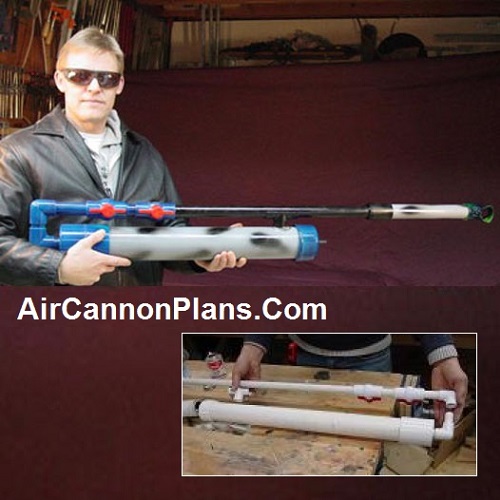 This gun incorporates the latest air cannon high velocity technology.
The firing range is maximized by sheer turbo power from the high capacity air chamber.
The stepped two stage barrel design avoids all the obvious sticky static drag issues and allows the marshmallow projectiles to be propelled with high power out of the barrel.
THIS CANNON WILL SHOOT:
Jumbo Marshmallows (up to several at a time)
Wads of tissue paper
Veggies and other 1 1/4" diameter objects
Confetti, for scattered distribution
Water - a high powered blast!!!.
Popcorn - get those kernels cooking!!!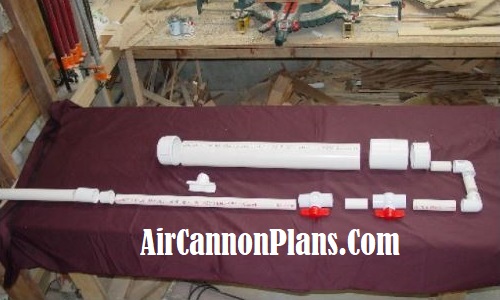 You can load the barrel with water for a jet blast effect. It is like shooting a fire hose water missile.
The barrel is the result of a lot of testing and research for maximum muzzle velocity. And it is also 100% waterproof.
This air cannon also includes a rotary bolt mechanism for safety and speed of loading. This offers the added advantage of "rear loading".
There is no need to load ammo down the barrel unless you want to use the gun in "SHOTGUN MODE". (Shotgun mode offers you the opportunity to shoot 20 plus marshmallows at the same time).
The Magnum Air Cannon operates on air pressure alone so there is no need for flammable or dangerous accelerant's.
Now you can build the Magnum Jumbo Marshmallow Cannon with these plans that include a step by step how to guide for easy fabrication and assembly. This includes proper lengths of each piece to match our best tested results...
Created with low cost in mind, these plans offer easy to follow instructions that make the fabrication process quick and easy.
Every step is photographed, and every action fully described in plain English so you can clearly understand the process.

Get your set of Jumbo Magnum Marshmallow Air Cannon Plans today and you will be ready for neighborhood wars in no time! Just $4.95