P.A.C. 1 Pneumatic Air Cannon Plans
WARNING: No Liability Is Assumed By The Developers Of This Website and All Literature Is Provided Second Hand, Use It At Your Own Risk!
For Accurate firing of Projectiles
P.A.C 1 Pneumatic Rifle Paintball Air Cannon Plans
Pneumatic Rifle Air Cannon Launcher - P.A.C. 1

This is an archive file from a website that closed down of the first P.A.C. pressurized air cannon made (the P.A.C. 1).
How the P.A.C. 1 and following editions came about
When I was about twelve years old, my friend and I wanted to construct are own homemade paintball guns. This small pneumatic rifle was the result. The inexpensive launcher actually worked quite well.
Theory: By pumping air into the tank and letting all the air out at once it produces enough pressure to shoot the paintball. This small cannon uses a supersoaker tank as a chamber. The hand pump attached is used to pump up the chamber.
How to fire: Use the small hand pump on the side of the "air chamber" and pump it about 10-15 times. Muzzle load the ammunition (paintball, mothball, wooden ball, etc.), flip the "ball valve" and it will fire the ammunition at a very high speed.
The construction is fairly straight forward as pictured here.
This is enough information for most handymen to build the P.A.C. 1 air cannon on your own and this is all the information that is available on it since the original website is now shut down.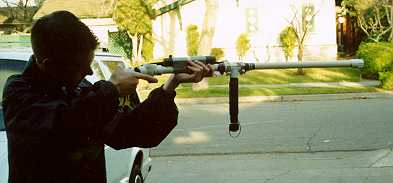 The P.A.C. 1 Pneumatic Rifle Air Cannon Plans
The P.A.C. 1 Detailed Plans are unavailable now that their website shut down but if you have a copy please Contact Us so we can offer them up for others to use to build this P.A.C. 1 air cannon.