P.A.C. 3 Pneumatic Air Cannon Plans
WARNING: No Liability Is Assumed By The Developers Of This Website and All Literature Is Provided Second Hand, Use It At Your Own Risk!
For Accurate firing of Projectiles
P.A.C 3 Pneumatic Rifle Air Cannon Plans
Pneumatic Air Cannon Launcher - P.A.C. 3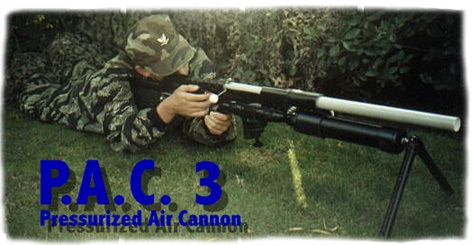 Picture: the PAC 3 launching paint grenades for a Paintball game
This is an archive file from a website that closed down of the third P.A.C. pressurized air cannon made (the P.A.C. 3).
P.A.C. 3 - Pressurized Air Cannon Rifle
The P.A.C. 3 Pneumatic Rifle is a unique air cannon for many reasons. The cannon combines a rifle stock set-up, breech loader, bipod and much more!
This cannon can shoot all sorts of projectiles. With a 1.5" barrel it can shoot a spud over 200 yards. That's not bad for its compact size.
P.A.C. 3 w/ breech loader
Perhaps one of the greatest features with this cannon, is the breech loader (not included in P.A.C. 3 plans).

You can totally eliminate muzzle loading with this device. Loading speed is safer and most of all, faster! With a simple, "Click, Click" you'll be ready to fire.
The flare projectile is recommended for this loader, however apples and potatoes can be used as well.
P.A.C. 3 electronics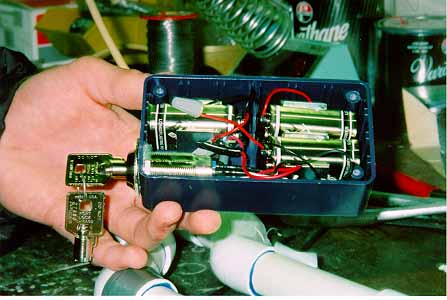 The electronic system used to fire this cannon is very safe and reliable.
There is a key-switch for ultimate prevention from someone else using the cannon without permission.
There is also a safety toggle-switch and a momentary-switch used to fire the cannon.
The trigger mechanism is safely guarded by the PVC frame (stock) and prevents an accidental firing. The electronics box is held securely in place by the stock set-up.
P.A.C. 3 stock set-up
The most convenient thing about this cannon is the stock configuration.

The set-up allows you to look straight down the barrel when firing.
There is no chamber blocking your view, like on standard potato cannons. With this ability the accuracy is drastically improved.
The stock of the cannon, rests right in your shoulder like a normal rifle would, making it much more comfortable to fire. It's amazing how you can hit small targets repeatedly, with ease.
The P.A.C. 3 does not just have one chamber, as most people speculate. It has two; one under the barrel, and one on the side of the cannon. Here is a sample diagram from the plans:

The construction is fairly straight forward with the information provided.
This is enough information for most handymen to build the P.A.C. 3 cannon on your own and this is all the information that is available on it since the original website is now shut down.
The P.A.C. 3 Pneumatic Rifle Air Cannon Plans
The P.A.C. 3 Detailed Plans are unavailable now that their website shut down but if you have a copy please Contact Us so we can offer them up for others to use to build this P.A.C. 3 air cannon.