P.A.C. 4 Air Cannon Plans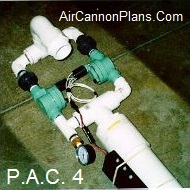 WARNING: No Liability Is Assumed By The Developers Of This Website and All Literature Is Provided Second Hand, Use It At Your Own Risk!
For firing Potatoes and other Projectiles
P.A.C 4 Pressurized Air Cannon Plans
Pneumatic Air Cannon Launcher - P.A.C. 4

This is an archive file from a website that closed down of the fourth P.A.C. pressurized air cannon made (the P.A.C. 4).
P.A.C. 4 - Pressurized Air Cannon
This cannon can shoot a flare projectile over 400 yards.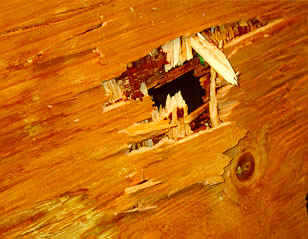 P.A.C. 4 potato shot through 1/2" plywood at 100 ft.
At 70PSI, a lemon shot through 1/2" plywood (about 100 ft. from the target). This is pretty powerful and this calls for great caution in the firing of the cannon.
The over-all length of this cannon is about 5 1/2ft. It has a 3in. X 3.6ft. chamber. It uses two solenoids.... Why you ask??? Why not use two valves to double the air flow. Now this might not give you twice the distance, but it will surely increase the range of the projectile.
The air pressure pushing the spud is not the only thing that gives it it's speed. The real factor here is the volume of air pressure along with the speed at which it is being delivered or moving.
P.A.C. 4 top view without barrel
Perhaps one of the greatest features with this cannon, is the dual-valve system. Like mentioned earlier, the dual-valves make it possible for greatly improved distances.
In the picture to the right, you can see how the dual-valves work.
The picture also shows part of the electronics. The firing system has a safety toggle-switch, and a firing momentary-switch.
The construction of the cannon is pretty straight forward.
This is enough information for most handymen to build the P.A.C.4 cannon on your own and this is all the information that is available on it since the original website is now shut down.
These diagrams are of the P.A.C. 4 without the barrel attached. These diagrams should help you understand how the cannon is constructed.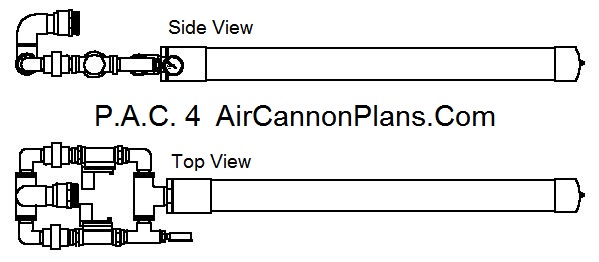 The P.A.C. 4 Dual Valve Air Cannon Plans
The P.A.C. 4 Detailed Plans are unavailable now that their website shut down but if you have a copy please Contact Us so we can offer them up for others to use to build this P.A.C. 4 air cannon.