P.A.C. 6 Air Cannon Plans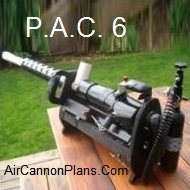 WARNING: No Liability Is Assumed By The Developers Of This Website and All Literature Is Provided Second Hand, Use It At Your Own Risk!
For Firing All Kind Of Projectiles
Semi Auto Air Cannon Plans
Co2 Powered Air Cannon - P.A.C. 6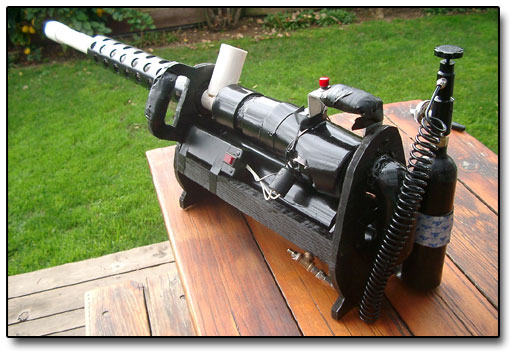 This is an archive file from a website that closed down of the sixth P.A.C. pressurized air cannon made (the P.A.C. 6) and it happens to be the first ever easy to build, semi-auto air cannon.
This cannon is totally portable due to the CO2 hook up!
The auto loading system means that you never have to muzzle load a projectile, it does it for you. You simply shoot away.
The air is automatically pumped into the cannon, and a projectile is automatically loaded for convenient use.
A full-auto design can be incorporated from this design (which is in the testing phase as of now).
This cannon's primary (most accurate) ammo is 1 1/4" rubber balls or table-soccer balls (foose-balls) but it also can shoot pre-cut potato projectiles.
The cannon can be easily modified to shoot any other sized ammunition.
A projectile can be shot over 300 yards with this cannon.
Below is a small photo gallery of the cannon, and more information on different parts of the cannon, so be sure to check it out!
Auto Loader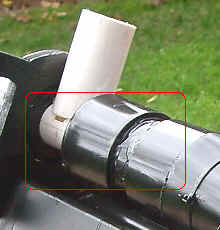 The real interesting part of this launcher is the auto loading mechanism of the cannon.
It uses a bolt-like system which grabs and places the ammo in the barrel, directing the air flow only to the projectile being fired, and springs back to catch another projectile automatically.
This in turns enables this cannon to be a semi-automatic cannon.
As said earlier this loader can be used to design a full-auto air cannon relatively easily. Xinventions the designer, designed this as a full-auto cannon as well for continuous firing.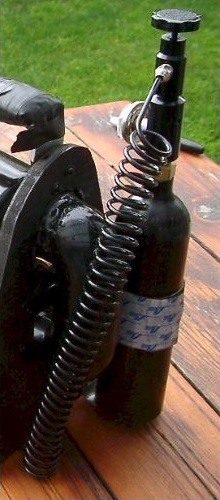 Auto fill CO2 system
Another great feature about this air cannon, is the fact that the air is automatically charged in the air cannon, by aid of a CO2 canister.
A regulator / remote set-up was designed to give the P.A.C. 6 a safe, auto air-charging cylinder.
The remote hose has a quick-disconnect feature for easy using.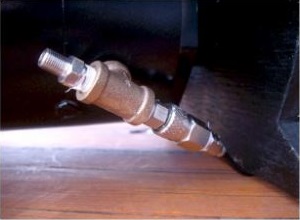 It also has a safety pop-off valve, as well as an optional schrader valve for manual pumping.
Easy to hold handles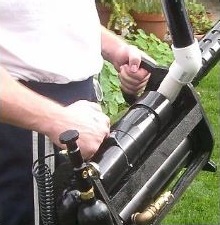 With the easy to hold handles, shooting the cannon is a breeze; just aim and fire.
The push-button trigger is on the handle for convenience as well as a safety switch.
Along with the handles, the frame of the cannon has legs, so it can easily be fired from a resting position.
P.A.C. 6 Plans
The P.A.C. 6 Plans are unavailable now but if you have a copy please Contact Us so we can offer them up for others to use to build this P.A.C. 6 air cannon, CO2 fill set-up and auto loader.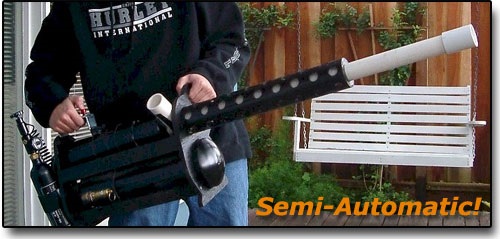 The P.A.C. 6 Pneumatic Potato Air Cannon