Paintball Air Cannon Plans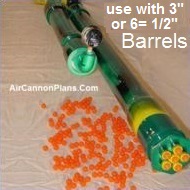 WARNING: No Liability Is Assumed By The Developers Of This Website and All Literature Is Provided Second Hand, Use It At Your Own Risk!

Fire up to 66 Paintballs At Once, or Lob Several Larger Paint Ball Bombs!
Paintball Bazooka Air Cannon Plans
How to build - paintball bazooka air cannon
The Paintball Bazooka Air Cannon is the ultimate in multi function paintball weaponry for recoloring the opposition!!!

Purchase these build it yourself Paintball Bazooka Air Cannon Plans with fully detailed fabrication and assembly instruction for, Just $4.95
Detailed Fabrication Instructions Included
You can color coat the opposition!
The Paintball Bazooka Air Cannon can target and dominate the competition in paintball fights.
With this multi barrel cannon you can fire 6 to 66 paintballs at once, or lob several large paint bombs!
Plans to build the Paintball Bazooka Air Cannon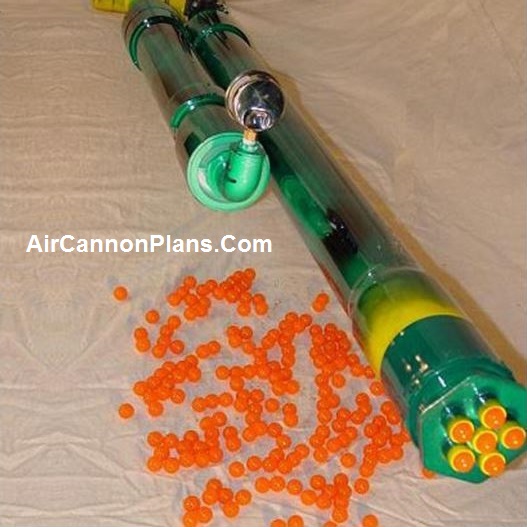 The Ultimate in flexibility allows this Paintball Bazooka to shoot either a storm of paintballs, or 1 - 4 paint ball bombs.
These plans include the secret wadding system that will allows you to successfully fire paint ball bombs, including surgical tubing or other rubber projectiles filled with paint from this bazooka without them breaking before they hit your intended target.
With these plans you will build 6 individual paintball barrels for shooting multiple paintballs, (easy!). These barrels are then mounted in an attachment that fits onto the Bazooka front end.

This allows you to fire 6 to 66 paintballs at once, depending on how bad you want to obliterate your target.
Got a bunch of opponents crossing grouping in one area? instantly change the color of their clothing! Saturate them all at once! Someone hiding behind an obstruction? fire all 6 barrels at them when they poke their head out, a surprise pummeling!
The attachment for shooting multiple paintballs will help you completely cover the target area with paintball strikes.
There are 2 secrets to the paintball multi barrel attachment
An integrated pop off feature allows you to speed up your shots even at when firing at low pressure
Air pressure surrounds the outside of each of the individual barrels first, then blasts the paintballs out toward your target. This surge component coupled with the pop off feature promotes incredible shots that your opponents cant compete with!
The Paintball Bazooka offers a quick changeover feature that allows you to unscrew your fired attachment and reattach another preloaded one for fast re-fire transitions to dominate the apponents.
Got some critters grouping together? Use the main barrel without the attachment to lob massive paint bombs and saturate their attire.
Now you too can build the Paintball Bazooka with these one of a kind plans that include step by step instructions with low cost and easy fabrication in mind. Each step photographed, every action described.
The Paintball Bazooka Air Cannon Plans!

Get your set of Paintball Bazooka Air Cannon Plans today and get ready to recolor the neighborhood with precision and dominance! Just $4.95