SR Sniper Rifle Air Cannon Plans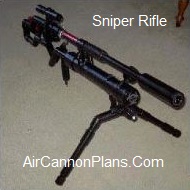 WARNING: No Liability Is Assumed By The Developers Of This Website and All Literature Is Provided Second Hand, Use It At Your Own Risk!
For Accurate firing of Projectiles
SR Pneumatic Sniper Rifle Air Cannon Plans
How to Build the SR Pneumatic Sniper Rifle
Here is a Sniper rifle plan, it is made from thick wall 3/4" pvc except for the barrel which is thin wall pvc.

All in all, this SR pneumatic air rifle fires very well.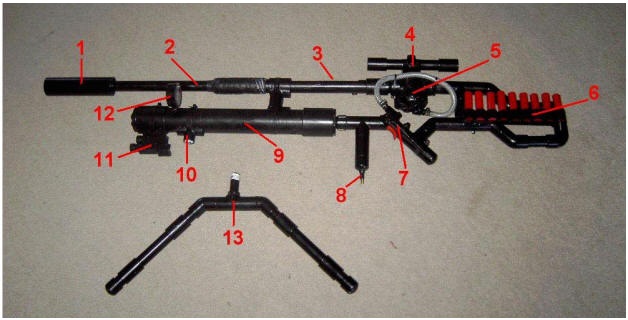 SR Pneumatic Sniper Air Rifle Components
Silencer - An actual silencer that drastically reduces the sound produced. It was made by drilling a ton of small holes in the end of the barrel. Then the area with the holes was covered with foam pipe insulation and then finished off with another piece of pvc around the foam to act as a sleeve.
Barrel - To the best of my knowledge and what I have read on the site I am the first to do this: encase a copper tube with pvc to ensure a perfectly straight and durable barrel.
Breech Loading - The rifle is loaded via a breech loading assembly. Simply twist the barrel and slide it forward.
Scope - Nothing more than a piece of 3/4" thick wall pvc and two couplers, it is there mainly for looks.
Sprinkler valve - a Rainbird JTV valve that is modded to use a blowgun as the trigger system.
Ammo holder - I did not come up with the idea for this system and I forgot who did because it is an awesome idea and they deserve the credit. The ammo itself is 3/4" wooden dowels cut down to size.
Blowgun valve - A Husky blowgun valve used for the trigger system.
Loading valve - A standard Schrader valve which will be changed to a quick disconnect setup when I get a compressor.
Main Air Chamber - The main portion of the air chamber is 2" thick wall pvc that is attached to the stock which is also part of the chamber. I have read that people say that having so many angles in the chamber reduces the exiting air pressure but after many tests using varying air chamber styles and setups I have found that the angles decrease the velocity a negligible amount.
Bipod Coupler - The bipod is attached here.
Laser Site/Flashlight - This is a laser site and flashlight combo I found on a plastic BB gun toy. I liked it so I took it off and used it.
Pressure Gauge - A pressure gauge that reads up to 120 PSI.
Bipod - A simple bipod made from leftover pvc pieces that is removable.
The SR Pneumatic Air Cannon Sniper Rifle
Below Left Picture: An angle view from the top and side showing the breech loader.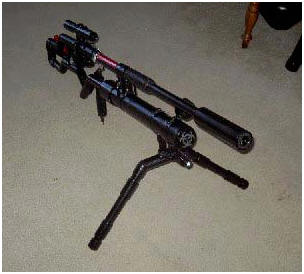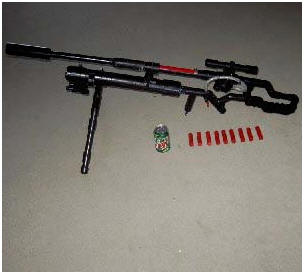 Above Right Picture: A comparison of the size of the ammo and rifle next to a soda can.
Below Left: A close-up view of the barrel, pressure gauge and laser sight / flashlight assembly. If you look closely you can see the copper pipe inside of the pvc.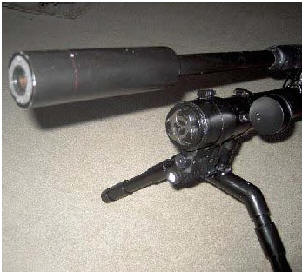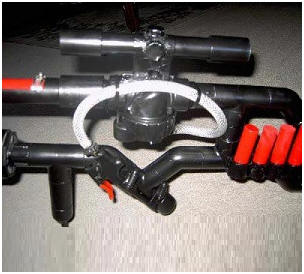 Above Right: The modded Rainbird JTV Valve and Husky blowgun assembly.
Below Left: A view of the breech assembly closed.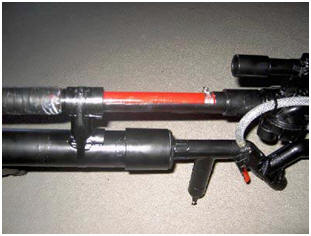 Above Right: A view of the breech assembly open and ready to be loaded.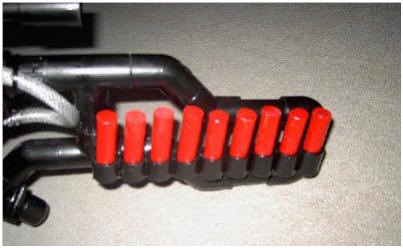 Here is a picture of the ammo holder.