3" WB Bazooka Air Cannon Plans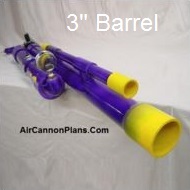 WARNING: No Liability Is Assumed By The Developers Of This Website and All Literature Is Provided Second Hand, Use It At Your Own Risk!
For firing up to 3" Diameter Projectiles
Water Balloon Launcher Bazooka Air Cannon Plans
How to build - shoulder fired water balloon cannon
The WB Launcher Air Cannon is the douser of choice when it comes time to soak down the competition in water fights!!!

Purchase these build it yourself Water Balloon Launcher Air Cannon Plans with fully detailed fabrication & assembly instruction for, Just $4.95
Detailed Fabrication Instructions Included
Can you make it rain? why yes, you can!
The Water balloon Launcher Air Cannon can push those water gun toting neighborhood kids rite back indoors.
Time to drench the competition with this finely tuned model for launching water balloons!
Plans to build the Water Balloon Launcher Cannon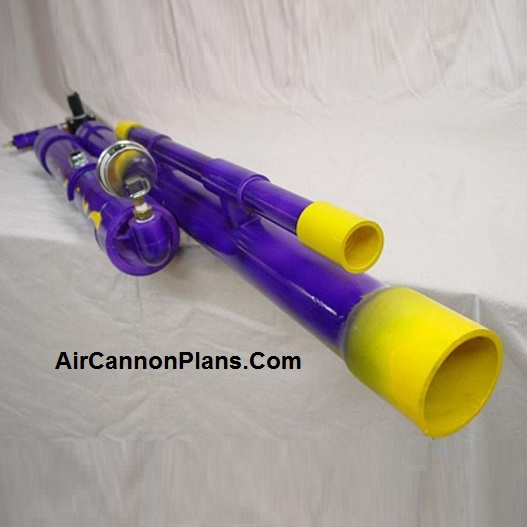 The Ultimate in water toy for warm weather.

With a 500 foot plus range of fire, you can drench down multiple opponents with one shot using a load of multiple water balloons at one time.
With a quick aim scope, you can focus in on your targets in a flash and make sure they are all washed up!!!
Get the proper setup quick with the easy to read pressure gauge that eliminates the guessing game and eliminates any air pressure mistakes.
The easy customizable barrel chamber can be adjusted during construction to fit your needs.

This Launcher is designed to shoot water balloons, However, it will also shoot a multitude of other items including:
Paintball Balloons
Confetti
Water
Popped Popcorn
Stuffed Animals
Panties and other small laundry items
Nerf Missiles and foam tubes
Styrofoam snow snakes
This Water Balloon Launcher is ready to get wet and can be a great advantage in water balloon fights or paintball challenges.
Designed as a catapult launcher, it is driven by air pressure. This adds to the ability and advantage of producing reliable consistent shots helping to control range and accuracy.
This Water Balloon Launcher is built around an oversized 3" by 46" barrel to enable all the energy from the firing chamber. this offers an easily controlled "push" for shot control when your ready to fire.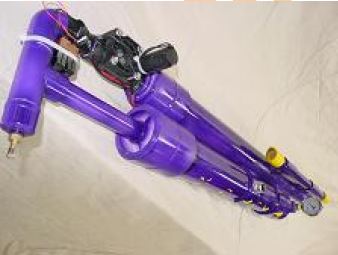 Included is information on how to make premium "wadding" that protects your water balloons when shot with pressure for longer ranges. This protects the balloons from shredding under pressure. Air release is controlled to push the water balloon out of the barrel instead of an immediate thrust which will pop the balloon.
You will be surprised at how well this works with water balloons.
Paintball Launcher: fill up the balloons with paint instead of the water and your off to the paint gun wars.
Now you too can build the water balloon cannon with these plans that include step by step guidance. Every step is photographed, every action described in detail.
The Shoulder Fired Water Balloon Launcher!

Get your set of Water Balloon Launcher Air Cannon Plans today and you will be ready for neighborhood water gun wars in no time! Just $4.95