3" Mortar Firing WB Air Cannon Plans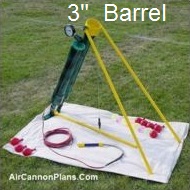 WARNING: No Liability Is Assumed By The Developers Of This Website and All Literature Is Provided Second Hand, Use It At Your Own Risk!
For firing up to 3" Diameter Projectiles

Remote Control Fired
Mortar Firing Water Balloon Air Cannon Plans
How to build - 3" water balloon mortar air cannon
The Mortar Water Balloon Air Cannon is the ultimate remote control artillery cannon for drenching the opposition!!!

Purchase these build it yourself Mortar WB Air Cannon Plans with fully detailed fabrication and assembly instruction for, Just $4.95
Detailed Fabrication Instructions Included
You can force the sky to open up and pour!
The Water Balloon Mortar Air Cannon can accurately target the competition in neighborhood water fights.
With this finely tuned mortar model you can fire water balloons while dialing in your accuracy with each shot!
Plans to build the Water Balloon Mortar Cannon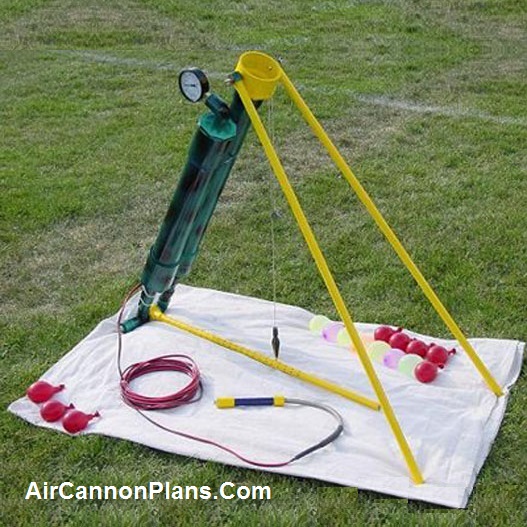 The Ultimate in Remote Fired Water Balloon Mortar Cannons
As one of the best designs, it's easy to be pleased with this Water Balloon Mortar Firing Air Cannon.
It will perform beyond your expectations.
This system allows you to completely carpet bomb targets at 400 to 700 feet away with 9 - 14 water balloons in one round.
This is no doubt one of the best water weapons of choice with its ability to shoot 400 plus feet up in the air, and target any area 700 plus feet away with multiple balloon loads for complete saturation.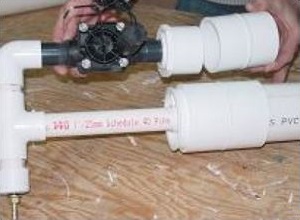 Shoot 9 - 14 water balloons at a time in one load depending on how much you fill the balloons with water. Douse a whole group of opposition members with one shot.
Plus, get the secret water balloon wadding system instructions that are included with this set of plans for proper barrel packing. Pack it, fire it, drive the competition into hiding!!!
This mortar firing air cannon features a snap fire remote electric trigger that will allow you to fire the mortar from up to 65' feet away. With its true angle barrel aiming system you can dial in very accurate repeatable shots on your target to insure saturation!
The tripod base stand works well on level or uneven ground. included with the plans are instructions for a wide mouth water balloon speed loading system for fast reloads.

The built in pressure gauge allows you to gauge your distance more accurately and insure accurate repetition.

This Mortar cannon can also be used for:
Lots of confetti
Stuffed Animals
Popped popcorn (total white out!)
Laundry items
A variety of produce items, potatoes, cucumbers, melon chunks, ears of corn, zucchini, oranges, apples, and the dirt they all grow in.
Should I mention those orange cheese balls
The barrel system has been optimized to provide the best power usage over a very wide range of pressure. The Water Balloon Mortar Cannon is very lightweight and portable.
See the Water Balloon Mortar Cannon in the movie "American Pie presents Beta House".
Build the Water Balloon Mortar Cannon with these plans that will lead you step by step through the fabrication process.
The Mortar Fired Water Balloon Launcher!

Get your set of Remote Fire Water Balloon Mortar Air Cannon Plans today and get ready to dominate neighborhood water fights! Just $4.95