WG Water Gun Air Cannon Plans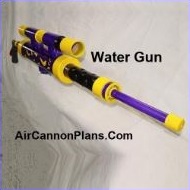 WARNING: No Liability Is Assumed By The Developers Of This Website and All Literature Is Provided Second Hand, Use It At Your Own Risk!
For dominating water gun water fights
The Water Gun From Air Cannon Plans
How to build - high pressure water gun cannon
The WG Water Gun from Air Cannon Plans is the ultimate drencher when your looking to soak down opponents in water fights!!!

Purchase this build it yourself Water Gun Design from Air Cannon Plans with fully detailed fabrication & assembly instruction for, Just $4.95
Detailed Fabrication Instructions Included
Time to slop up your opponents in water fights!
The WG Water Gun operates more like a Water Cannon that can drench those neighborhood kids.
Time to soak down the competition with this super duty water gun and optional variable water nozzles!
Plans for building the Water Gun Cannon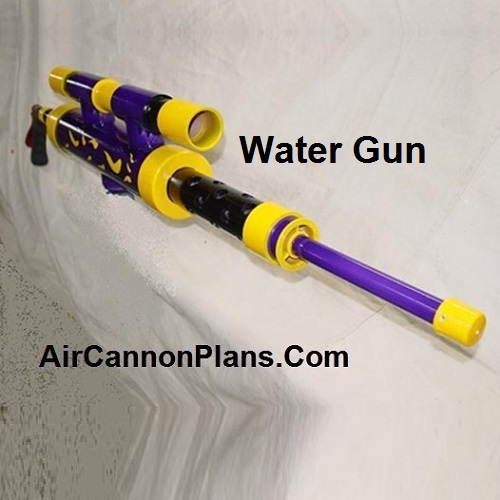 The Plans to build the Water Gun Cannon are easy to follow
Just like the newest Water Parks, this gun has some incredible advantages when attached to your garden hose.
The nice thing about that is that it never runs out of water.
It is safe and fun to use and made of durable materials to avoid breaking. Once you have built this Water Gun, it should last for years.
Easy and Fun to use Water Gun
This water gun offers a swivel mount just like at a water parks so you can twit around without getting the hose bound up.
A quick release disconnect swivel base allows you to disconnect from the garden hose and keep firing when chasing down those squirt gun toting opponents.
Once your friends discover your garden hose water gun range, surprise them by disconnecting to bring the water gun fight to them.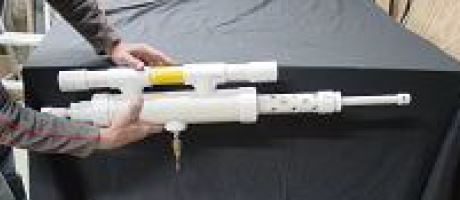 A super soaker squirt gun like no other with an easy squeeze variable control trigger.
This trigger is the only (long lasting) moving part so durability is what you get!
With the option of changeable water nozzles for more water flow, you can dominate by turning up the water volume.
This water gun offers in hand domination and it is fun to build as well.
It includes a large site scope to make aiming at the competition fast and easy. This water gun shoots a minimum of 50 feet even with low water pressure so your always ready to target shoot. And It NEVER Runs Out Of Water when it is connected to your garden hose.
Simple and fun water gun for kids of all ages 6 to 96.
Use the WG Water Gun around the home
Nobody around to shoot? Get out your water gun and start soaking down the windows for washing and rinsing them off. The WG Water Gun is a handy around the home cleaning tool you can use to wash down tight places and get the grime off.
Now you can build the WG Water Gun Cannon with these plans from aircannonplans.com that include step by step guidance. Every step is photographed, every action described in detail.
The WG Water Gun From Air Cannon Plans!

Get your set of Water Gun Cannon Plans today and you will be ready for neighborhood water fights, and ready to dominate in no time! Just $4.95